of David Ouvry's Instruments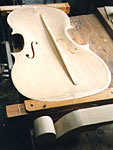 Excellence of materials is an essential requirement of a maker of hand-made instruments. I choose air-dried sycamore and spruce not only for their appearance, but above all for their "ring" when tapped. Equally important is the precise graduation in the carving of the plates (belly and back); each must be exactly graduated and thicknessed in the traditional Italian manner to produce a tap-tone of around F# for the back and F for the belly, pitches which have been found in practice to yield first-class results.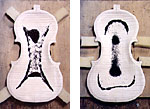 To check on the accuracy of carving and acoustic frequencies I use a sine-wave generator, frequency counter and audio amplifier. This equipment vibrates a horizontal plate in such a way that, when a substance such as glitter is placed on the plate - I use loose-leaf tea, as you can see in the photos - it is shaken into a pattern (the so-called "Chladni" pattern). Chladni patterns show the position of nodal points on the carved plate, and also accurate frequency measurements of the bending modes. Results from each instrument are fully recorded, and have enabled me over time to improve tonal results.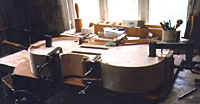 Before an instrument is glued together, the interior is sealed with a mineral paste comprising montmorillonite (bentonite) coloured light brown with walnut vegetable stain. Montmorillonite has very similar properties to the volcanic ash used for the same purpose by Cremonese and other early Italian makers. A damp cloth passed over the whole instrument raises the grain, and equisetum, or horsetail to use its English name, is rubbed on every surface; final gentle use of metal scrapers produces the required silky finish to the wood. Equisetum (also apparently used by Stradivari and other makers) has a stalk with serrations which cut through the wood fibres rather than producing the fine dust caused by abrasive paper. Such dust can be trapped in the pores of the wood and prevents a shining finish.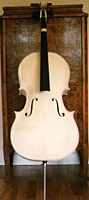 I use a linseed oil and turpentine varnish - again a traditional recipe - over a ground of the same sealant as is used inside the instrument. This ground, incidentally, not only protects the wood should varnish ever wear off, but forms a hard casing which assists the acoustic properties of the wood and probably accounts for the very rapid development of my highly-resonant instruments. Final colour of the instrument is arrived at during the varnishing process. I use saffron (yellow) or madder (red) as my main colouring agents, resulting in a golden or golden-red colour. About eight coats of varnish are applied, rubbed down between each coat. Rubbing down is only done after a coat of varnish has thoroughly dried, this being achieved by the use of ultra-violet light in a cabinet. The finishing process is completed by polishing with a mixture of tripoli powder and mineral polishing oil.

Finally, soundpost, pegs, bridge and strings are fitted and adjusted. I play each violin or viola frequently over the course of the next few weeks to establish the optimum sound. After that, it's over to the new owner, who is entitled to any necessary adjustments free over the course of the next two years. In fact, I have only very rarely been asked to make further adjustments once an instrument has been purchased.